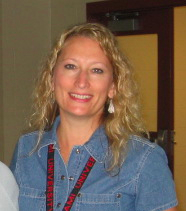 A College Board consultant since 1997, Cheryl Ann Hollinger has led local, regional, and national AP workshops as well as multi-day international AP workshops on 4 continents. In addition, she's led AP Summer Institutes for almost 20 years. She was a consultant trainer during the first AP Biology course redesign and has mentored 7 new consultants. Cheryl is an HHMI BioInteractive Ambassador, a Teacher Institute for Evolutionary Science (TIES) Teacher Corps presenter, and she was a member of the NABT/BSCS/HHMI Region IX AP Biology Teacher Academy leadership team from 2014-2018.
Cheryl taught high school biology in Pennsylvania for 26 years, teaching all levels of biology, along with some physical science courses. She taught AP Biology and Human Anatomy & Physiology for over 20 years. Cheryl also taught  biology  courses at the college level for 7 years. She is a member of NABT, NSTA, and OSTA. At the present time, she is an adjunct faculty member for a college in Portland, Oregon. Traveling, reading, hiking, and camping are some of her favorite things to do in her spare time.
Cheryl has been recognized for teaching excellence on several occasions. These include the NABT Outstanding Biology Teacher Award (Pennsylvania), Presidential Award for Excellence in Science Teaching (state finalist), and the Siemens Award for Excellence in Advanced Placement Science Teaching. In 2011, she was the first recipient of the Kim Foglia AP Biology Service Award, an award that recognizes an AP Biology teacher who displays a willingness to share materials, serves as a mentor to both students and professional colleagues, creates an innovative and student centered classroom environment, and exemplifies a personal philosophy that encourages professional growth as an AP biology teacher and member of that community.