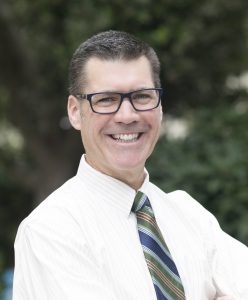 Jim Jordan has taught AP English Language and Composition at Sacred Heart Cathedral Preparatory in San Francisco since 2000, during which time he has served as English Department Chair, Cross-Curricular Writing Coordinator, and school-wide AP Instructional Cohort leader. A certified College Board Consultant, Jim has served as a Reader, Table Leader and Question Leader for the AP English Language Exam since 2007, and consulted on the newly designed curriculum framework for the course in 2015.
A regular video and webinar contributor to platforms such as teachingrhetoric.com and Marco Learning's PopUp PD, Jim has actively promoted the cross-disciplinary value of rhetoric at both state and national conferences, presenting most recently at the College Board's 2014 National Forum in Las Vegas, the 2015 and 2016 AP Annual Conventions in Austin and Anaheim, the 2016 National Forum in Chicago, the 2019 Forum in Washington D.C..
Jim earned a BA Degree in Broadcast Journalism from San Francisco State University and an MA in Private School Leadership along with his California English Teaching Credential from the University of San Francisco.