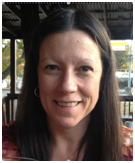 Lisa holds a BS and MS in Chemistry. In the 30+ years she has spent in the classroom, she has taught math and earth science at the middle school level, chemistry (all levels) and biology (all levels) at the high school level, and freshman chemistry at the university level and community college level. Lisa served as Co-Project Director for the Laying the Foundation in Science series, has co-authored an AP Chemistry review book for McGraw-Hill, an SATII Chemistry review and has been a reviewer for a number of high school and freshman college chemistry texts. Lisa has also served the College Board as a member of the Science Academic Advisory Council, an audit reviewer for AP Chemistry and as an AP Chemistry consultant presenting and planning one day, two day and summer institutes. She has served as an AP Chemistry Reader, Table leader and Question leader for the national exam. She has received the Southwest Regional Award for AP Chemistry.
After teaching in public school for 21 years Lisa started with the incentive program in Texas known as AP Strategies in 2002 working with Pre-AP and AP teachers and students across the state of Texas. Lisa returned to the classroom for three years and rejoined the Pre-AP teacher-training component as a Science Coordinator, then known as Laying the Foundation which later merged with the National Math and Science Initiative. Lisa continues to consult with NMSI planning and presenting one day, two day and summer institutes across the country. She also serves as a mentor for AP Chemistry teachers and works with students in review sessions.
High standards for students lie at the core of Lisa's educational philosophy: "It is extremely satisfying to hear the teachers discuss how they have raised the expectations for the students in their classrooms. If the student experience is challenging and positive, perhaps more students will choose to sit for AP science courses and ultimately continue with careers in a science field of study." "Teacher training is a great way to open the doors into the classroom," she says. Providing quality experiences for the busy classroom teacher continues to be a very rewarding experience.