Oregon State University Campus Parking Permit Requirements
Permits are required year-round, Monday through Friday, 7 a.m. to 5 p.m. in A, B and C zones on campus, unless marked.
APSI Teachers parking a car on the OSU campus will need to purchase a Daily Visitor Permit (link below). Your license plate is your parking permit. When you register for a parking permit, be prepared to provide your vehicle(s):
License plate number
Make
Color
Body Type (2 door, 4 door, SUV, etc.)
Click here to register your vehicle with OSU Parking on-line.
APSI Teachers may park a car (having a virtual OSU Parking Permit) in an A1 lot next to LPSC located between 30th Street (East Side) and Campus Way or in a B3 lot located across the street from LPSC between 30th Street (West Side) and Campus Way.
Location and Directions
Corvallis is located in the Western Region of Oregon in the Willamette Valley – between the Coastal Moutain Range and the Cascade Mountain Range. Located about a 1.5-hour drive South of Portland (on a sunny Sunday) and a 45-minute drive North of Eugene. By car, travel on I-5 South of Portland or I-5 North of Eugene and take the US 210 exit to Corvallis. Take the Corvallis-Newport Highway 20 toward Philomath (before entering Corvallis). Follow directions to campus. Exit at SW 26th Street for the Hilton Garden Inn.
Beaver Bus
The Central Route picks up and Drops off near the Hilton Garden Inn. Free for all riders.  Select for the Beaver Bus route map  (or see below) and link to the current schedule.  Bus pick up approximately every 15 minutes. There is a Beaver Bus Tracker App as well.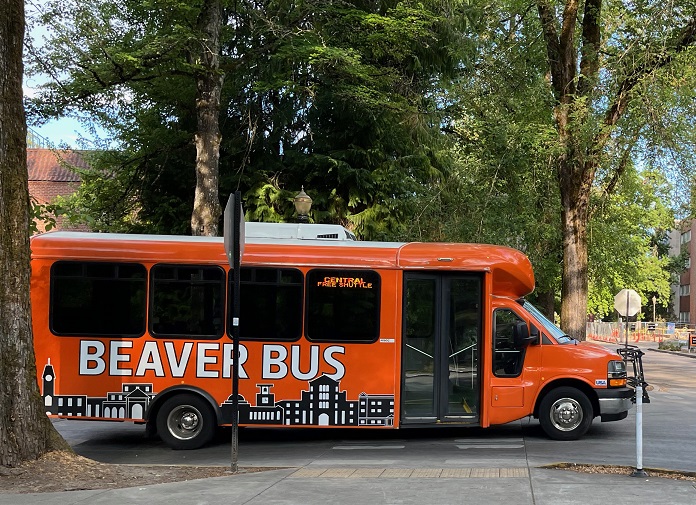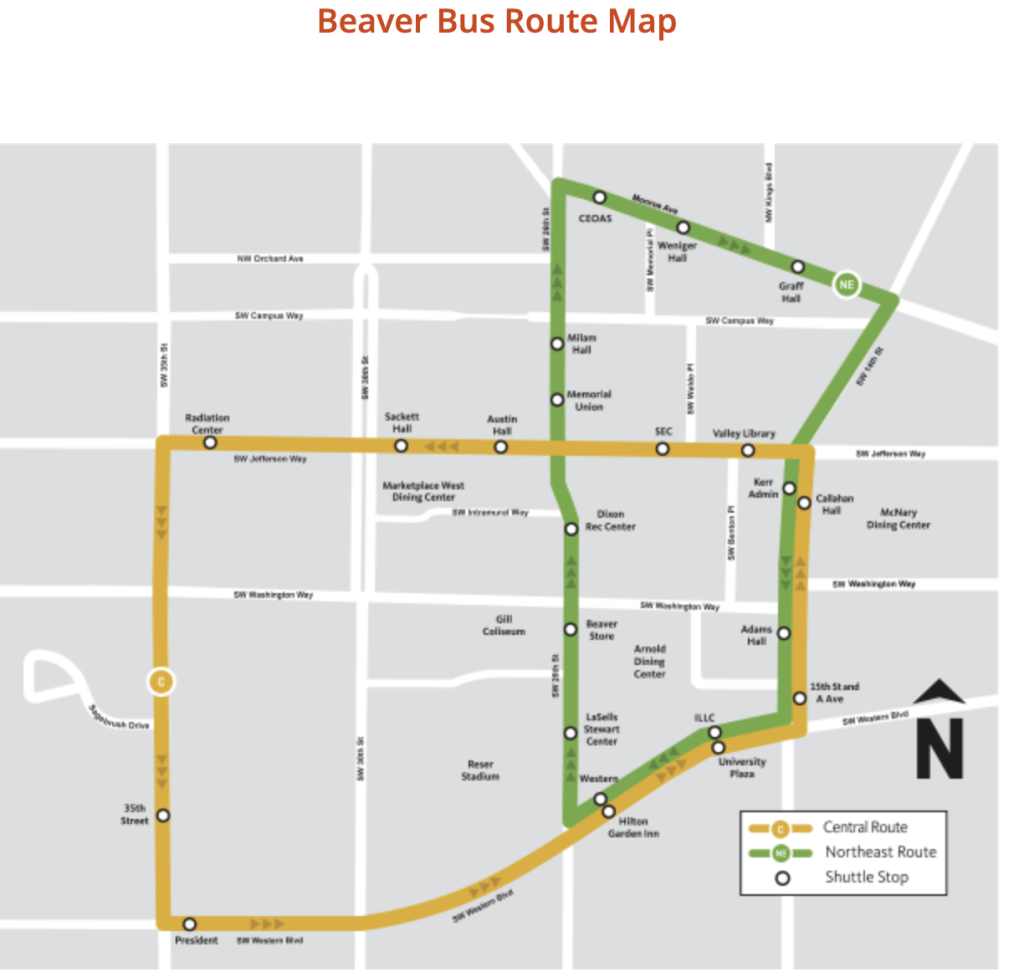 Mobility Device Accessibility
Buses are equipped with a lift ramp and each bus has two securement positions for mobility devices. Your mobility device must be properly secured, and the driver will assist with securement.
Additional Accommodations
Additional transportation accommodations may be available.
Lodging 
Hilton Garden Inn (one of two Oregon APSI official hotels)
2500 SW Western Blvd Corvallis
OR 97333
Phone: 541-752-5000
Room rate for the Oregon APSI participants is $199/night plus taxes and fees – chef's choice breakfast included. The per night charge includes free parking and free WIFI at the HGI. (7/31- Monday afternoon Check-in to 8/4 Friday morning Check-Out).
For Oregon APSI AP teachers: 
Nightly Group Rate: $199 plus tax 
Last Day to Book: July 10, 2023 
Book by Phone: Call 541-752-5000 and ask for a room under the "Oregon APSI" block. 
Book Online: Click to book your group rate for Oregon APSI 
Please book your room reservation early – before July 1. The HGI will be full during the first week in August due to an event being held on the Oregon State University campus.
The Hilton Garden Inn is the Hotel of Choice for the Oregon APSI.  HGI is located on the edge of the Oregon State University campus and within a 14-minute walk across the beautiful OSU campus to the Linus Pauling Science Center. The Groome Shuttle offers service from the Portland International Airport (PDX) to Hilton Garden Inn, Corvallis.
Courtyard by Marriott Corvallis (one of two Oregon APSI official hotels)
400 SW 1st Street,
Corvallis, OR 97333
Reservations, phone: 844-208-1538


For Oregon APSI AP teachers:
Local Corporate Production – 15% off standard rate at time of booking
Call our front desk at (541)753-0199 and reference the "Local Corporate Production"
Book online with this link:  Book your corporate rate for  Local Corporate Production
**Breakfast not included in rate
**Overnight garage parking at $10 per night
AP Teachers staying at the Marriott may have breakfast at the Hilton Garden Inn for an extra fee of $20 per day – contact the Oregon APSI Director.


The Courtyard by Marriott is located in downtown Corvallis and is 1.4 miles from the HGI and 2.0 miles from the Linus Pauling Science Center.
Other recommended hotels (these hotels will take a 30 min walk to campus and the LPSC):
Holiday Inn Express Corvallis on the River
There are good quality BnB's and AirBNBs in Corvallis.
Contact one of the Oregon APSI Co-Directors before you book at one of the less expensive hotels in the Corvallis-Albany area. We can provide some valuable information to save you $.
OSU Dorms
We are not using OSU dorms for a variety of reasons.
Train Service 
The Amtrak Cascades passenger trains connect Corvallis, Portland, Seattle and Vancouver B.C. on a daily schedule. Free wireless Internet service is available in coach and business class cars on all Amtrak Cascades trains.
The Coast Starlight offers additional service connecting Corvallis to West Coast cities on a route from Los Angeles to Seattle. Sleeping cars and a Dining Car are offered so passengers may travel in comfort.
The Amtrak train station is located near Corvallis with non-attended free short-term and long-term pay parking available.
Air Travel
Portland International Airport (PDX)
7000 NE Airport Way, Portland, OR 97218
PDX is the nearest international airport and it is located 1 hour and 20 minutes (on a sunny day without any rush hour traffic) north of Corvallis. PDX has been voted one of the best and most efficient airports in the USA.
Shuttle Service from PDX to the Hilton Garden Inn, Corvallis: Groome Shuttle Service is available from the Portland International Airport (PDX) and will take you from PDX to the front door of the Hilton Garden Inn, Corvallis. Reservations are required and can be made online at Groome Transportation.
Rental Cars: Check your favorite rental car company for information on their PDX offerings.
Eugene Regional Airport (EUG) 
Terminal Building 
28801 Douglas Drive  Eugene, OR 97402
www.flyeug.com
The Eugene Regional Airport is the closest airport located 30 minutes south of Corvallis with convenient non-stop connections to Seattle, Portland, San Francisco, Los Angeles, San Diego, Phoenix, Salt Lake City, Denver, and Chicago on most of the major and minor airlines.  The Eugene Airport now has two baggage claims: Baggage Claim #1 and Baggage Claim #2. There is no direct bus, taxi, or shuttle service from the Eugene Airport (EUG) to the OSU Campus, Corvallis.
Rental Cars: Check your favorite rental car company for information on their EUG or PDX offerings.